Throttle valves, throttle non-return valves M18x1,5
Mecanically adjustable throttle valve in screw-in cartridge construction for cavity according to ISO 7789. The one-piece throttle non-return spool shifts into the completely open position with the volume flow direction 2 to 1. The opening pressure of the valve is 1 bar. With the volume flow direction from 1 to 2, the spool is pressed against the adjustment spindle and reduces the volume flow to the required extent via the throttle area, resp., throttle notch, milled laterally on the cone. When the adjustment spindle is screwed out, the throttle closes practically leakage-free from 1 to 2, because the hydraulic pressure and the spring press the throttle non-return spool into the closed position. The stainless execution is especially suitable for the use in wet and salty environment.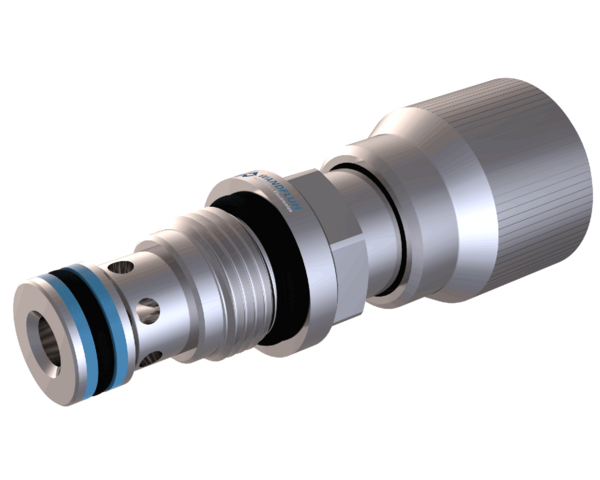 Qmax = 25 l/min
QN max = 25 l/min
pmax = 350 bar
Application
Throttle non-return valves are used where the volume flow in the one direction via the spring loaded non-return valve has to be nearly free. In the opposite direction, the oil flows via the continuously adjustable, load depending throttle. The screw-in cartridge is perfectly suitable for installation in control blocks and is installed in sandwich plates (vertical stacked systems, corresponding data sheets in this register). For machining the cartridge cavity in steel and aluminum blocks, cavity tools are available (hire or purchase). Please refer to the data sheets in register 2.13.