Proportional throttle valves, proportional flow control valves M33x2
Direct operated, pressure compensated proportional flow control valvewith integrated electro-nics as a screw-in cartridge with a thread M33x2 for cavity acc. to ISO 7789. These plug & play valves are factory set and adjusted. High valve-to-valve reproducibility. Housing for electronics with protection class IP67 for harsh environment. Two flow ranges are available. The volume flow is adjusted by a Wandfluh proportional solenoid (VDE standard 0580). Allmost linear flow increase and low hysteresis are typical for this valve. The cartridge and the solenoid made of steel are zinc coated and therefore rustprotected. The housing for the elctronics is made of aluminium.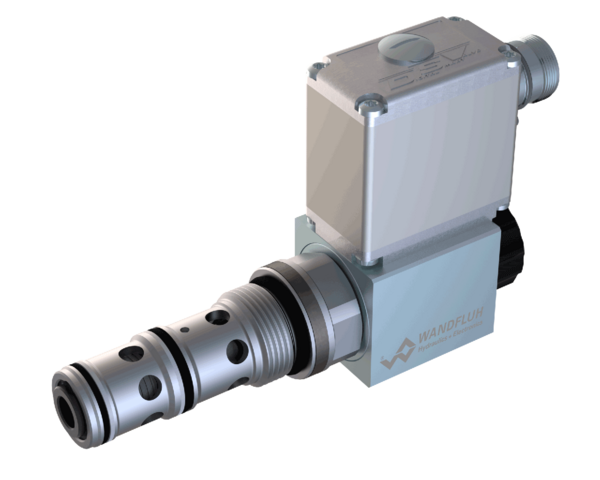 Proportional 3-way flow control valve Screw-in cartridge
Integrated amplifier electronics
Direct operated, pressure compensated
Qmax = 100 l/min, pmax = 350 bar
QN max = 63 l/min
Application
Proportional flow control valves are suitable for precise feed control system where the supply volume flow needs to be kept constant even when the load fluctuates. They are implemented in systems calling for good valve- to-valve reproducibility, easy installation, comfortable operation and high precision in indust-rial hydraulics as well as in mobile hydraulics. The screw-in cartridge is very suitable for mounting in control blocks, flange bodies and sandwich plates of the size NG10. Cavity tools are available for machining cartridge cavities (hire or purchase).Please refer to the data sheets in register 2.13.