PROPORTIONAL MOBILE VALVES
The Proportional Mobile Valves (PMV) programme describes a flexible hydraulic concept that can be individually assembled and modularly adapted for any type of application.
An internal pressure compensator is already built in as standard and leads to precise, load-independent and sensitive control.
PMV
PMV principally stands for a high degree of flexibility. Due to the modular design, PMV units can be designed and assembled for practically any type of application. The modules used are proportional spool valves with which the direction of movement and the speed of cylinders or hydraulic motors can be determined individually. Thanks to the built-in pressure compensator, the functions are controlled separately, continuously and at the same time load pressure compensated proportionally or via hand lever. Proportional spool valves PMV are suitable for all common pump systems. The volume flows and load pressures for the individual consumers can be set individually.
PROPERTIES
Modular structure
Individually adaptable
Volume flows and load pressures can be individually adapted to the downstream consumers
Extensive modular system with a multitude of variants and combination options
Compact and lightweight design
Robust and durable design for pressures up to 420 bar
High energy efficiency due to low Delta p
Load Sensing Signal Amplifier
Anti-saturation module
Load-independent flow control
The load sensing pressure relief valves for connections A and B allow reduced energy loss.
---
AREAS OF APPLICATION
High power density and reliability under all working conditions have always been important requirements for the use in the mobile sector. In order to carry out heavy work with large machines efficiently and yet also precisely, hydraulics that are well-adapted to the machine are required. With the highly flexible assemblable PMV programme, these units can be used almost everywhere in mobile applications.
The areas of application are very diverse. PMV are used where very compact installation dimensions are required and a function must be sensitively controlled.
Typical applications are cylinder and motor controls for all handling functions in such as:
Loading cranes
Telescopic handler
Aerial platforms
Municipal vehicles
Construction machinery
Drilling equipment
Agricultural and forestry machinery
Offshore applications
Underground mining
Most applications are remotely controlled with the proportional valve. However, due to the modular design, hydraulic joysticks can also directly control the valves or the functions can be controlled with built-in hand lever actuators. The PMV units are also the ideal choice for compact and efficient hydraulic systems on the high seas or in harbour facilities.
---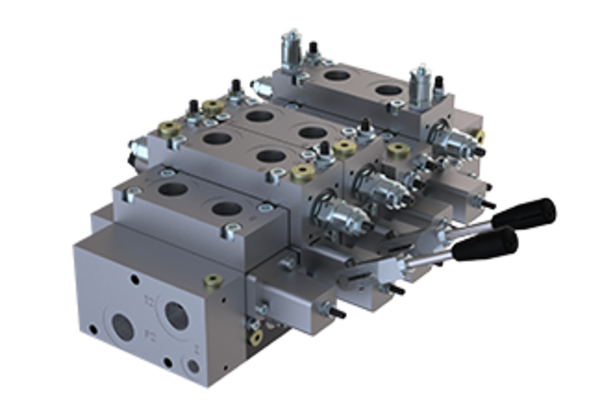 FEATURES
Proportional function as standard
Size NG10 / 16 / 22 / 32
1 – 1000 lpm flow
420 bar
Pressure compensated
Functions free configurable
Modular structure for flexible unit assembly
Complete manifold assembly will be done
Through Build Programm Partner

---
PMV CONCEPT
The PMV concept allows an individual composition of single modules, which are available as pre-assembled units with their own type code. Modifications can also be carried out very easily in the field. Due to the modular design, also special solutions can be created in a flexible manner. For example, counterbalance valves integrated in the connection plate or operated non-return valves can be integrated.